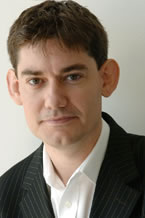 Neil started at IPC Media in 1994, a year after graduating. He worked initially in magazine circulation sales before moving into publishing, focusing on music and lifestyle brands, including NME, Loaded, Uncut and www.nme.com.
In 1999 Neil was appointed Commercial Director focussing solely on the internationally award-winning www.nme.com, overseeing its initial expansion. In 2002 he took overall responsibility for the whole IPC music portfolio as Publishing Director - winning the PPA Publisher of the Year award in 2004 for his work repositioning the NME brand.
In 2005 Neil took up the role of Publishing Director at IPC TX, re-launching TVTimes, one of the UK's best-loved TV weekly brands and launching TV website www.whatsontv.com.
He was named IPC Media Digital Director in September 2006 to oversee the growth of IPC's digital business, initially launching, redeveloping and acquiring to build today's current website portfolio at IPC targeting mass market women, upscale women & upmarket men.
More recently, his focus has been on mobile and tablet development. He has overseen the launch of over 35 mobile optimised sites, 25+ branded mobile apps in 2011, and in 2012 is driving an extensive digital magazine roll-out of IPC's brands onto emerging digital Newsstands.
Neil is an executive director of AOP, representing IPC, and was appointed to the IPC Media board in April 2007.
Contact: 020 314 85372 or e-mail neil_robinson@ipcmedia.com