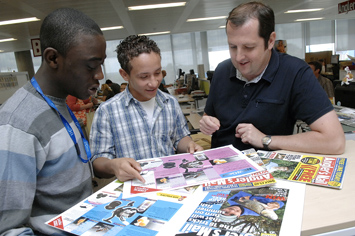 IPC Schools' Design Programme
Launched in 2005, the IPC Schools' Design Programme is an innovative work-related learning programme that opens up the world of magazine design to secondary school students in Southwark.

The programme is delivered in partnership with A New Direction - a charity that works with schools and young people to develop creative approaches to teaching and learning. It offers students the opportunity to complete 20 hours of design training from expert tutors at the London College of Communication, followed by a week-long work simulation. It culminates in a week's work experience at IPC in the summer, when students are hosted by our designers and have the chance to produce work that may be published in one of our magazines.
The objectives of the programme are to:
Charity of the Year 2013
Following a company-wide vote in autumn 2012, IPC chose CALM - the Campaign Against Living Miserably - as its charity of the year for 2013. The Campaign Against Living Miserably exists to prevent male suicide in the UK and has a helpline that takes calls from across the UK. The charity seeks to offer immediate support to men who are down or in crisis and challenge a culture that both prevents men seeking help when they need it and the stereotypes that prevent men talking about the issues they face. IPC's aims for the partnership with CALM include helping to position the charity centre stage in the public eye so that it can save lives and change the male mind-set that being silent is being strong. "The visibility generated by this opportunity can help make all the difference, stop suicide being an unseen toxic scourge and put it on the public agenda as one of the biggest challenges facing society," says CALM's chief executive Jane Powell.
Company-wide fundraising activities are organised on behalf of CALM by IPC's Charity Committee, which includes the employee who nominated the charity.
And it's not just about the fundraising. A number of our brands will help through editorial content and by donating free advertising space in their magazines or on their website and staff will be volunteering in other ways.
Support for other charities
We provide ad hoc support to other charities, either via a financial or an in-kind donation. Support is typically given to organisations that are local to our offices and whose work is aligned with our key community priorities (young people, arts, education and literacy). Some IPC brands choose one or more charities to support on an ongoing basis. Among many examples, woman&home has raised more than £2 million in recent years for Breast Cancer Care, primarily through events involving its readers and website users.
Better Bankside
Better Bankside was formed in 2004 as a pilot 'Business Improvement District' in the area between Blackfriars Bridge and London Bridge. We contribute financially to Better Bankside and are pleased to have the opportunity to influence the improvement of the area for the benefit of residents and businesses.
IPC is represented on Better Bankside's Corporate Responsibility Group, which aims to facilitate businesses' involvement with the local community by supporting education, employment and environmental initiatives. This includes supporting (financially and in kind) several local charities and projects that work with young people and their families, promoting a culture of volunteering (in particular by publishing regular bulletins of volunteering opportunities) and facilitating workplace exposure visits for local students. The group also promotes local employment and supports local businesses to reduce their environmental impact, as well as taking part in various other activities designed to promote dialogue and partnership between the various communities in the Bankside area.
For further information on Better Bankside, please visit www.betterbankside.co.uk