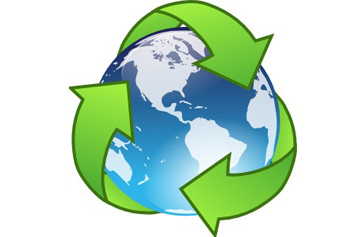 Through the production of our magazines and development of our websites, as well as through our daily tasks in the office, we recognise that IPC Media has an impact on our environment. We are committed to continual improvement in our environmental impact, to minimising our adverse environmental effects and to ensuring the company's sustainability.
IPC's Environment Committee is responsible for working towards our environmental goals. Chaired by Charlie Meredith, managing director of IPC Advertising, it comprises representatives from IT, Facilities, Production, Publishing, Distribution, Communications and the Staff Council.

Buildings & Employees

Environmental efficiency was a high priority in planning our move to our HQ, the Blue Fin Building, in 2007, and the building achieved a "very good" score on the British environmental BREEAM carbon emissions rating. However, our goal is ongoing improvement so in 2009, we launched 'Green Fin', with the aim of reducing our environmental impact by introducing operational changes and engaging employees in making small, straightforward changes to the way we work.
Green Fin focuses mainly on recycling, saving paper and saving energy, and specific actions have included: adjusting the operating hours of the building's lighting; switching off most lights overnight; aligning air conditioning times with working practices in each area; and running new software that switches off PCs and puts Macs to sleep overnight. Employees help by disposing of rubbish in the correct bins; switching off lights, chargers and other electronic items when not in use; printing double sided and thinking before they print. We appointed champions across the company to help embed the changes. to give the project a more 'local' feel and to encourage staff to think about the environmental impact of their behaviour. The Green Fin initiative achieved a 5% energy saving during its first year, and just over 10% between 2008-2011, contributing to IPC's attainment of Carbon Trust accreditation in 2011.
Since the Carbon Reduction commitment was introduced in 2010, we have focused particularly on reviewing and reducing our energy consumption. With lighting accounting for between 30-40% of our energy use, we have successfully trialled a new system that was implemented during 2012, which means all lights in open plan areas are switched on manually, rather than automatically through movement sensors. They switch off automatically after a period of inactivity if they are not manually controlled. Estimates suggest that the system new could save up to 20% of our lighting consumption.
We have revitalised the involvement of our employees following a survey to establish which issues and methods of engagement resonate most with them. We refreshed our network of green champions and contracted Global Action Plan - a leading environmental behaviour change organisation - to run a series of training sessions for the champiions. During 2013 we will be launching a new set of staff-facing environmental initiatives.

Supply Chain

IPC aims to purchase paper only from manufacturers who have adopted sustainable forestry practices and whose timber sourcing and paper production conform to international standards such as the Forestry Stewardship Council (FSC). Current certification levels for paper purchased by IPC stand at above 95% and we aim to increase this year-on-year.
IPC works with its wholesale partners to ensure that 100% of all unsold magazines are recycled. IPC's magazines form an important part of the recovery of fibre for the recycled paper industry, with the majority recycled into newsprint at two mills in the UK. IPC's distribution company, Marketforce, has also made significant progress in reducing unsold magazine copies through working with its wholesalers to look at patterns of supply and demand, which has resulted in several million copies being taken out of circulation in recent years.
IPC's magazines regularly use polypropylene bags to carry supplements and gifts. Plastic bags are, of course, additional packaging and mean extra material going to the UK's already pressured landfill sites. To combat this problem IPC began using oxo-biodegradable plastic bags in 2006, which are produced using a technology developed by Symphony Environmental called d2w®. This enables the plastic to break down by process of oxidation at a relatively quick rate, thus reducing the landfill burden.

Carbon Footprint

IPC regularly measures the carbon footprint of a representative sample of our portfolio, using a carbon calculator that was developed in partnership with the industry through the PPA's Environment Committee. The overall aims are to continue to develop our understanding of where the biggest impacts lie, to identify any titles whose carbon footprint is significantly larger than other similar titles, and to determine where we can exert a positive environmental influence.

The Environment and our Magazines

In response to increased interest among our consumers in 'green' issues, a growing number of IPC brands now regularly feature relevant environmental stories. For example, green tips and organic produce ideas are included in some of the women's weeklies, and several of our homes titles regularly promote eco products and green ideas for the home.

Industry Initiatives

IPC is represented on the PPA's Environmental, Carbon Footprint and Production & Technology Committees, where we play an active role in the environmental debate in the UK. As part of the PPA Production and Technology Committee, IPC plays an important role in working with the paper and print industry to seek out technologies that will further reduce greenhouse emissions.
IPC is also a signatory company to the PPA/Defra Voluntary Producer Responsibility Agreement, which outlines commitments to increase the recycling rates for post-consumer magazines. As a result, PPA members have agreed to carry the Recycle Now logo in their magazines. In 2006, IPC issued best practice guidelines to all its magazines indicating the minimum size and ideal position of the logo, and we have now achieved 100% compliance with regard to the display of the logo.