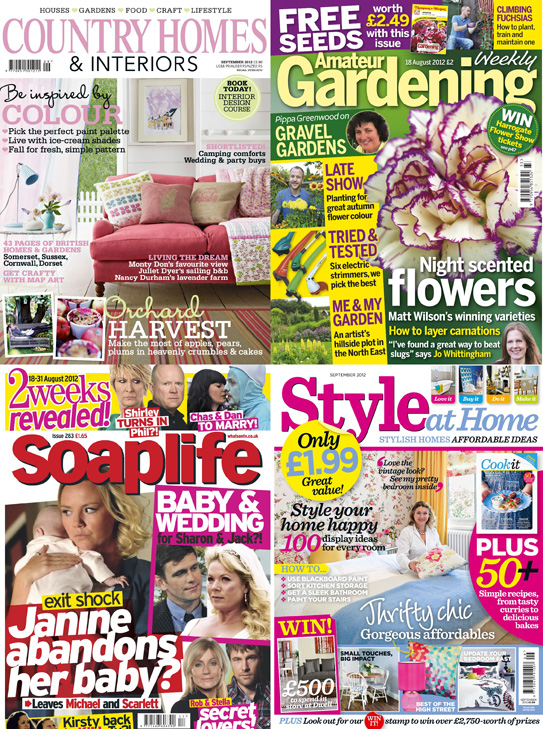 IPC MEDIA ABC FIGURES: JANUARY to JUNE 2012
August 16, 2012
IPC Media today unveils highlights from the latest round of ABC figures for brands reporting in the period January to June 2012.
IPC Media CEO Sylvia Auton says: "The on-going recession continues to affect the entire magazine industry. At IPC we remain focused on editorial and publishing innovation and are seeing some improving sales trends in our women's lifestyle, fashion and celebrity brands, and our home interest portfolio remains resilient.
"I believe that the quality of our content is the strongest it has ever been, so it remains for us to ensure that we get this content into the hands of our consumers across the plethora of platforms now available to us. The majority of our brands are extending their offerings beyond print, interacting with millions of consumers every week through tablets, mobile, online, social media, brand extensions and live events."
IPC's ABC results include:
· IPC Media consolidated its position as the leading consumer magazine publisher by both volume and value and outperformed the market this period
· IPC Media's annual volume share of the TV market grew this period and now stands at 46.3%. The titles –TVTimes, What's on TV, TVEasy, Soaplife, and TV&Satellite Week - reach over 20 million people through print, website and social media, and continue to provide a highly valued, accurate guide to viewing, as well as offering entertaining and topical features for consumers
· On the newsstand, IPC Connect's share of the women's weekly market rose 1.0% to 23.9%. In the women's weekly lifestyle sector, IPC's volume share of the market rose to 50.7%, up 0.5% on the year
· In the celebrity sector, Now outperformed its market, growing its share by 0.8 percentage points this period · IPC's home interest titles also outperformed the market this period and continue to lead the home interest sector. Style at Home, Country Homes and Interiors and Livingetc all posted notable period-on-period and year-on-year circulation increases
-ends-
Note to editors:
For additional comments please contact the IPC Media press office on one of the numbers below.
For high-res covers and images of key IPC Media personnel go to http://www.ipcmedia.com/news/imagebank
About IPC Media
IPC Media is one of the leading consumer magazine publishers in the UK. Its three publishing divisions are: IPC Connect, IPC Southbank and IPC Inspire. IPC is wholly owned by Time Warner, one of the world's largest media groups.
For further information, please contact:
Anna Foster, group head of PR, IPC Media, Tel: 020 3148 5406, email: anna_foster@ipcmedia.com
Anna Gawan, PR manager, IPC Media, Tel: 020 3148 5405, email: anna_gawan@ipcmedia.com