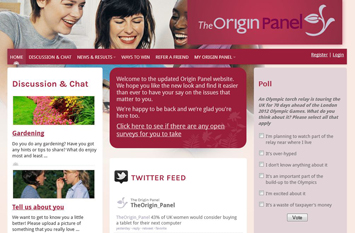 IPC MEDIA APPOINTS YOUGOV TO MANAGE ORIGIN PANEL
May 24, 2012
IPC Insight, the consumer research division of IPC Media, has appointed YouGov, the market research company, to manage its award-winning Origin Panel.
The 7,500-strong online community provides insights into the evolving attitudes and behaviour of women across the country. YouGov's work will enhance the experience for panellists, giving opportunities for them to engage with the issues examined through the panel and with other users.
Amanda Wigginton, IPC Advertising's director of Insight, says: "The insights we gain from the Origin Panel further strengthen IPC's position as an authority on UK women. YouGov is renowned for its quality research, and we look forward to working with them to develop the panel to even greater success to benefit both IPC and our advertising partners."
Dan Brilot, media consulting director at YouGov, says: "We are delighted to be working with IPC on creating this community. As well as adding a lot of value to the research which we conduct for IPC (and their clients), we believe we have created a really interesting and engaging space for women to come together and discuss the things that really matter in their lives."
The Origin Panel's on-going dialogue with women includes polls and discussion corners, as well as bespoke studies. Topics explored include women's use of new technology, the impact of the economy on shopping and buying habits, engagement with media, and awareness and use of consumer products.
- ends -
Notes to editors
IPC Insight is the division of IPC Advertising responsible for spearheading consumer research across IPC Media. It generates and co-ordinates a broad range of research initiatives and, as the authority on consumer behaviour across IPC's core markets and sectors, it works closely with key clients to ensure they develop more effective relationships with consumers and measures the effectiveness of their communications.
The Origin Panel is a major rolling research study of UK women, designed to provide a continuous channel through which to understand the evolving attitudes and behaviour of women across the country.
• Winner of the Media Week Award for Best Research Initiative (2008)
• Winner of the AOP Award for the Best Research Project for Women's Space (2008)
YouGov is an international, full service market research agency offering added value consultancy, qualitative research, field and tab services, syndicated products such as the daily brand perception tracker BrandIndex and social media analysis tool SoMA, fast turnaround omnibus and comprehensive market intelligence reports. YouGov's sector specialist teams serve financial, media, technology and telecoms, FMCG and public sector markets.
YouGov is considered a pioneer of online market research and has a panel of 2.5 million people worldwide, including over 350,000 people in the UK representing all ages, socio-economic groups and other demographic types.
As the most quoted market research agency in the UK, YouGov has a well-documented and published track record illustrating the accuracy of its survey methods.
For further information, please contact:
Victoria Higham, PR manager, IPC Media Tel: 020 3148 5401 or email victoria_higham@ipcmedia.com