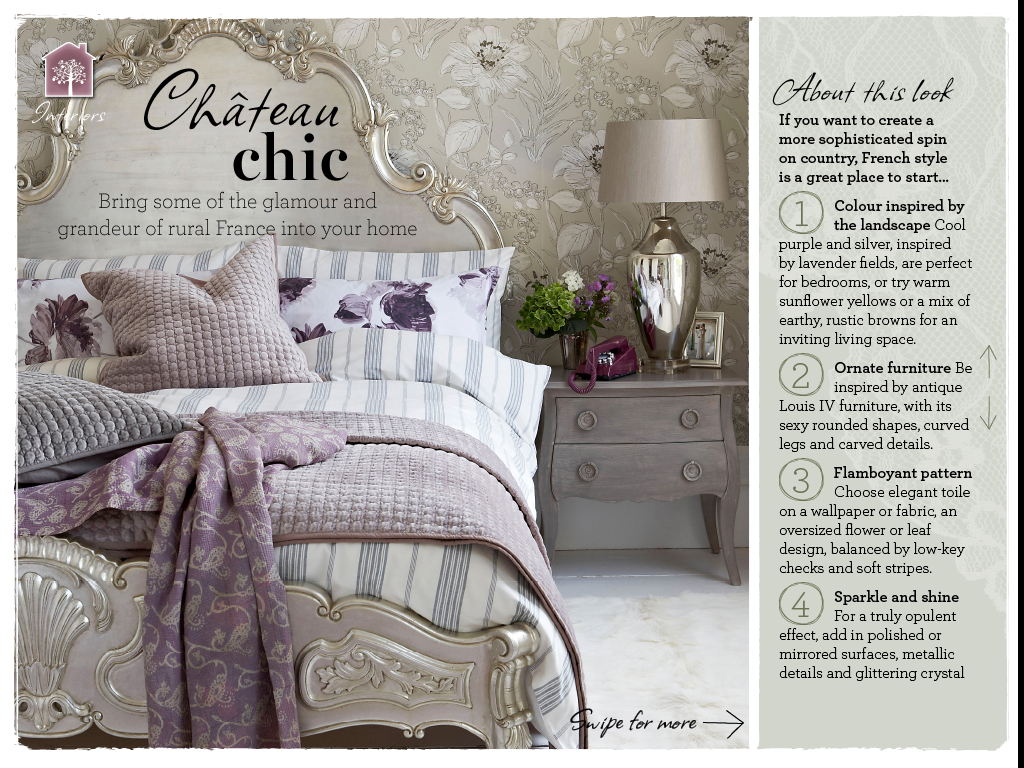 IPC's HOMES GROUP LAUNCHES COUNTRY HOME IDEAS IPAD APP
November 16, 2012
IPC's market-leading Homes Group continues to grow its digital footprint with today's launch of its first iPad app, Country Home Ideas.
Created to serve the growing number of consumers drawn to the appeal of living an idyllic rural lifestyle, Country Home Ideas features 150 country-inspired recipes, decorating ideas and crafts to help users create their country dream. There are 80 simple and delicious recipes using easy-to-find ingredients from the field, hedgerow and kitchen garden, plus 30 homespun makes for crafters at every skill level. The app also features 40 inspirational decorating and style ideas that deliver timeless country looks for the home.
The app was developed by a team led by Isobel McKenzie-Price, editorial director of housetohome and Ideal Home, who says: "Country Home Ideas allows us to tap into a growing global market drawn to the dream of a country lifestyle. It's the first of many apps we'll be launching from the Homes Group, and is just one element of our strategy to bring our expert homes content to every platform where interiors fans are looking for inspiration."
The growing appetite for all things country is mirrored in the increasing sales of IPC Southbank's Country Homes & Interiors title, which is experiencing its highest ABC figure in eight years.
Country Homes & Interiors editor Rhoda Parry, who advised on the app's content, says: "We are currently riding the high of an ongoing national obsession with 'country'. Interiors trends are firmly back in the land of relaxed, comfortable and stylish – all the boxes ticked by a laid-back country look. Today's smart and savvy women want to reconnect with the simple pleasures of life – from cooking simple, seasonal food to enjoying the buzz and community of modern craft. All this adds up to the perfect time to launch a country-inspired app."
The Homes Group already extends digitally across number-one website www.housetohome.co.uk; tablet editions of its leading homes brands - including Country Homes & Interiors, Ideal Home, Homes & Gardens, Livingetc, 25 Beautiful Homes and Beautiful Kitchens – in addition to nine successful blogs, including GirlAboutTech and Room Envy.
The Country Home Ideas iPad app is priced at £2.99 and is now available for download from the iTunes App store.
-ENDS-
Notes to editors
IPC Southbank's home interest portfolio consists of Ideal Home, Homes & Gardens, Country Homes & Interiors, Livingetc, 25 Beautiful Homes, Beautiful Kitchens, Style At Home and www.housetohome.co.uk.
For further information contact:
Holly McNally, communications assistant, IPC Media Tel: 020 3148 5402 or email holly_mcnally@ipcmedia.com
For high-resolution images go to http://www.ipcmedia.com/news/imagebank