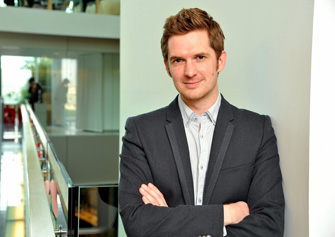 MARIE CLAIRE APPOINTS NEW PUBLISHER
January 6, 2012
Marie Claire, the premium fashion glossy, announces the appointment of Toby Evans as publisher.
Most recently Look's associate publisher, Toby has also held the roles of managing editor and production editor on the title. Toby's background also includes experience on the launch teams of Look, Nuts and Closer.
Marie Claire publishing director Justine Southall says: "Toby has gained a fantastic mix of editorial and business experience through his successful career to date. This mix of skills, and his working knowledge of brand building, makes him the perfect person to join Marie Claire as we launch into a year of developments across the brand."
Toby adds: "This is a really exciting time to be joining Marie Claire. I couldn't be more thrilled to be working with such a talented team on a truly multi-platform brand that is both rich in heritage and constantly innovating."
Toby takes up his new position with immediate effect. He replaces Roger Cummings, who is now publishing director for IPC Connect's women's lifestyle portfolio.
-ENDS-
Marie Claire
Marie Claire is a compelling media destination that combines provocative features and outstanding fashion to inspire women who want to think smart and look amazing. It is a worldwide icon with editions in 36 countries and is published in the UK in partnership with French publishing company Groupe Marie Claire. The UK edition, published by IPC Southbank, was launched in 1988 and has a circulation of 250,785 (January to June 2011).
In addition, marieclaire.co.uk has fast become the established daily news, fashion beauty and celebrity destination for the modern, thinking woman. The site generates 17 million page impressions and 1.1million unique users (source Omniture October 2010)
For further information about Marie Claire, contact:
Victoria Higham, PR manager, IPC Media
Tel: 020 3148 5401 or email victoria_higham@ipcmedia.com
For high-resolution images go to www.ipcmedia.com/imagebank