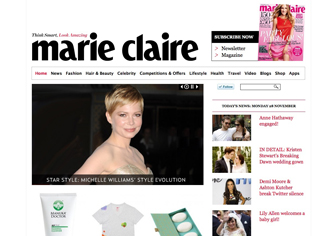 MARIE CLAIRE REFRESHES MARIECLAIRE.CO.UK
November 29, 2011
www.marieclaire.co.uk, the website from upmarket fashion glossy Marie Claire, is revealing a refresh to mirror the premium experience of the magazine.
The refreshed homepage has new fonts, a cleaner header and larger images, including a rotating main image and a supersize 620 by 930 pixels image that introduces a gallery. Two new larger advertising formats on the homepage - the IAB Rising Stars Billboard and Pushdown - reflect the bold and upmarket feel of the brand.
There are more ways for users to access the site's key fashion and beauty content, and the homepages for these sections have refreshed. The new pages feature a picture-led rotator, buy of the day franchise, and fashion, hair and beauty galleries.
Marieclaire.co.uk has also introduced a new shopping channel powered by LynkU, which places an 'as seen in mag' graphic on products the magazine has featured in its pages.
Marie Claire publishing director Justine Southall says: "marieclaire.co.uk is performing brilliantly. We wanted to invest in the site so that it echoed the values of the Marie Claire brand. The experience is now even more rewarding and luxurious for our upmarket uses, and our premium advertisers have larger, more striking formats for their campaigns."
Helen Russell, editor of www.marieclaire.co.uk, adds: "marieclaire.co.uk's refresh has given the site a gorgeous, upmarket look that perfectly showcases our authority in news, fashion and beauty. Our users will love it."
IPC Digital's Southbank development team and marieclaire.co.uk's senior designer, Jo Blackaby, produced the new-look website.
-ENDS-
Marie Claire
Marie Claire is a compelling media destination that combines provocative features and outstanding fashion to inspire women who want to think smart and look amazing. It is a worldwide icon with editions in 36 countries and is published in the UK in partnership with French publishing company Groupe Marie Claire. The UK edition, published by IPC Southbank, was launched in 1988 and has a circulation of 250,785 (January to June 2011).
In addition, marieclaire.co.uk has fast become the established daily news, fashion beauty and celebrity destination for the modern, thinking woman. The site generates 17 million page impressions and 1.1million unique users (source Omniture October 2010)
For further information about Marie Claire, contact:
Victoria Higham, PR manager, IPC Media
Tel: 020 3148 5401 or email victoria_higham@ipcmedia.com
For high-resolution images go to www.ipcmedia.com/imagebank