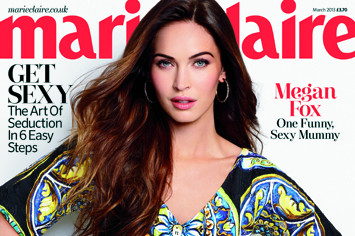 MARIE CLAIRE REVEALS FIRST MULTI-COVER EDITION SUPPORTED BY LVMH
January 30, 2013
Marie Claire, the premium fashion glossy, is publishing a multi-cover issue for the first time, and has secured support for the initiative from luxury goods group LVMH.
Each copy of the March fashion special will feature three covers from Marie Claire's exclusive shoot with actress Megan Fox. The covers show her in a mix of poses and wearing three different seasonal looks. Marie Claire has secured support from LVMH group for the special cover unit, which features ads for its Dior, Louis Vuitton and Kenzo brands.
A first for UK Marie Claire, this innovation is part of the brand's increased focus on fashion, which in the last year has seen the launch of Marie Claire Runway and enhanced fashion coverage in the main magazine.
Marie Claire publishing director Justine Southall says: "Marie Claire is all about delivering a gorgeous, surprising and engaging experience and this March issue with the addition of the multi-cover will give our readers just that."
Marie Claire's Megan Fox interview coincides with the launch of her new film, This is 40, and is the first interview she's given to a women's magazine since the birth of her baby.
The March issue of Marie Claire goes on sale tomorrow.
-ENDS-
Marie Claire
Marie Claire is a compelling media destination that combines provocative features and outstanding fashion to inspire women who want to think smart and look amazing. It is a worldwide icon with editions in 36 countries and is published in the UK in partnership with French publishing company Groupe Marie Claire. The UK edition, published by IPC Southbank, was launched in 1988 and has a circulation of 255,021 (January to June 2012). In addition, marieclaire.co.uk has fast become the established daily news, fashion beauty and celebrity destination for the modern, thinking woman. The site generates 17 million page impressions and 1.4million unique users (source Omniture November 2012)
For further information about Marie Claire, contact:
Victoria Higham, PR manager, IPC Media Tel: 020 3148 5401 or email victoria­_higham@ipcmedia.com For high-resolution images go to www.ipcmedia.com/news/imagebank