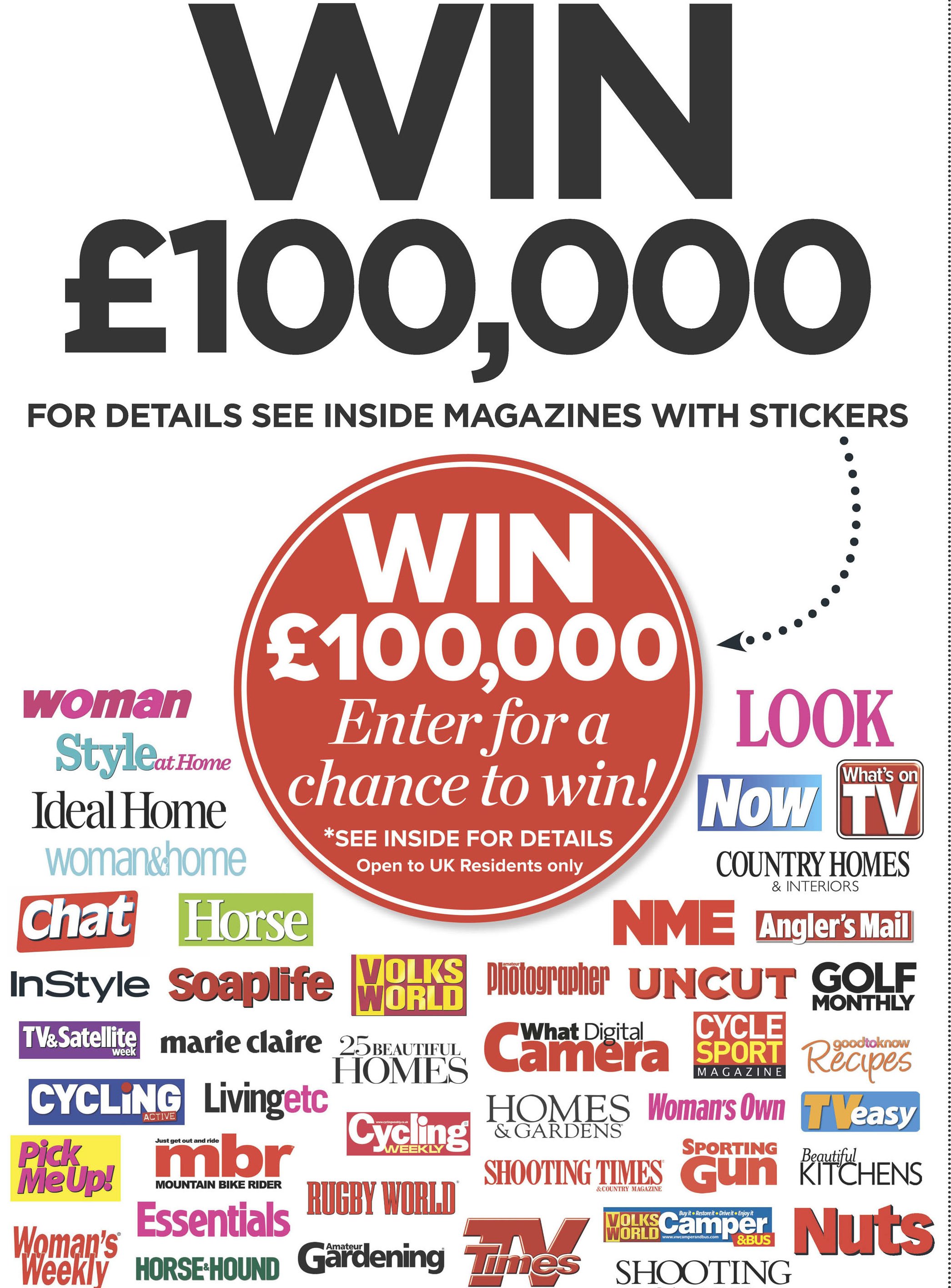 MARKETFORCE STAGES BIGGEST EVER INDEPENDENTS PROMOTION
March 20, 2012
Marketforce and IPC Media are embarking on their largest consumer promotion to run exclusively with independent retailers, with a chance for customers to win £100,000.
The majority of IPC Media's titles are taking part in the promotion, which has five guaranteed reader cash prizes of £1,000, as well as the chance to win the six-figure sum. Participating magazines will highlight the competition on their front covers and point of sale is available for independent retailers by contacting magazinesplus@marketforce.co.uk.
Launching in April, the promotion runs on May issues of IPC's monthly titles - such as Marie Claire, InStyle and Ideal Home - and on weekly titles, including Woman's Weekly and What's on TV, during the first two weeks of April.
Retailers are encouraged to full-face copies of participating magazines, put up posters and shelf talkers, and display copies in promotional areas and at the till point. Retailers who support the promotion and send photographs of their additional displays to magazinesplus@marketforce.co.uk. will be entered into a prize draw to win up to £500. The closing date for entries is 30 April 2012.
Adrian Hughes, IPC Media circulation director, says: "This promotion represents a substantial investment by IPC and is designed to offer independent retailers a point of difference and allow them to drive sales. "We're following the success in 2011 of exclusive independent promotions on Soaplife and Pick Me Up, which gave some of the best sales responses we have seen."
- ends -
Editors' Notes: Marketforce is a world class newstrade sales, marketing and distribution company and the single largest distributor of magazines in the UK. It boasts an unrivalled portfolio of magazines and newstrade products, which gives it a market-leading share of some of the UK's biggest magazine market sectors. As well as being responsible for ensuring IPC Media's titles are on sale in the right place at the right time, Marketforce also provides a full range of independent services for an expanding list of titles published by blue-chip independent companies, including Hachette Filipacchi, Reed Business Information, Future Publishing and Archant Media.
FOR MORE INFORMATION, CONTACT: Victoria Higham, PR manager, IPC Media on 020 3148 5401 or email victoria_higham@ipcmedia.com
For high-resolution images go to http://www.ipcmedia.com/imagebank/