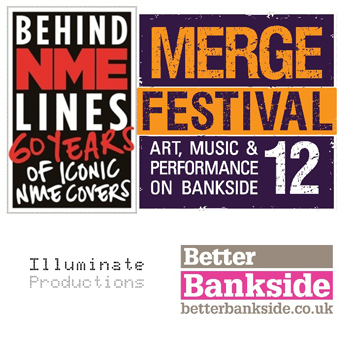 NME CELEBRATES ITS 60TH BIRTHDAY WITH 'BEHIND NME LINES'
August 31, 2012
This September, as part of its 60th birthday celebrations, NME invites music fans to Behind NME Lines – an exhibition of some of the most iconic covers throughout the magazine's history.
What makes a great magazine cover? To put it simply, impact. A combination of images and coverlines (or in some cases, the lack of them) come together to create a striking statement that spells out the mission of the magazine whilst also documenting the moment it was created as a snapshot of modern times.
Behind NME Lines is a unique exhibition experience showcasing the greatest, most iconic and most controversial covers in NME's incredible 60-year history.
Launched in 1952, NME is the world's most famous music magazine, a legacy that has been built on unrivalled passion, knowledge, access and of course, countless unforgettable covers that are now as much a part of music history as the artists that feature on them.
From Kevin Cummins' paint-splattered The Stone Roses and Dean Chalkley's bittersweet Amy Winehouse tribute, to Pennie Smith's bold announcement that The Strokes had landed and Ellis Parrinder's celebration of a naked Beth Ditto – these are the covers that have defined not only the artists, but 60 years of rock'n'roll and NME itself.
NME editor Mike Williams says: "Every generation lays claim to the golden age of music and culture and every generation has its batch of legendary NME covers that defines the times. For me it was the beautifully sad Kurt Cobain obituary and the brilliantly cocky Liam versus Damon Britpop showdown. For others it's The Clash and The Sex Pistols, or The White Stripes and The Libertines. The NME cover can immortalise the times unlike any other magazine and Behind NME Lines is a celebration of this. 60 years of iconic covers that say everything about rock'n'roll as we know it."
The exhibition is part of the MERGE festival, the annual arts, music and performance festival that draws on the rich heritage and contemporary culture of Bankside – where NME HQ the Blue Fin Building is based – by staging exhibitions, performances, and events in historic buildings, open spaces, and local businesses. It takes place this year from 19th September until 21st October.
Behind NME Lines will be held at the spectacular, new riverside development NEO Bankside, located adjacent to Tate Modern. A private view will be held on 18th September from 6pm, followed by the launch of MERGE Festival and Bankside Community event in the Tanks at Tate Modern from 8-10pm, featuring live music and more.
The free exhibition is open to the public from 20th September until 7th October Wednesday - Sunday, 12 - 7pm.
- ends -
FOR MORE INFORMATION OR TO ARRANGE INTERVIEWS ABOUT NME PLEASE CONTACT:
Anna Gawan, PR manager, IPC Media on 020 314 85405 or email anna_gawan@ipcmedia.com
FOR MORE INFORMATION OR TO ARRANGE INTERVIEWS ABOUT MERGE FESTIVAL PLEASE CONTACT:
Una Devine, Una Devine PR on 07904 368 049 or email una@unadevine.com
About NME
Launched in 1952 when the Accordion Times was merged with the Musical Express, the New Musical Express (NME) has been at the forefront of British music and culture ever since - championing the most exciting new artists of every decade and genre, from The Beatles to Blur, Sex Pistols to The Smiths, Public Enemy to Pete Doherty and beyond. Perhaps just as infamous as the musicians that NME has covered, are the legendary writers and photographers who have left their mark on its pages. Known for being provocative, passionate, witty and opinionated, household names such as Paul Morley, Danny Baker, Steven Wells and Steve Lamacq all cut their teeth at NME, while Nick Kent, Chrissie Hynde, Julie Burchill and Tony Parsons were among the hip young gunslingers who delivered missives from the frontlines of punk into the front rooms of thousands of teenagers every week in the late 70s. Pennie Smith, Anton Corbijn, Kevin Cummins and Dean Chalkley are just some of the celebrated photographers to have worked for NME. 60 years on and today NME is still at the forefront of music and culture, setting agendas, instigating debate and championing new and exciting artists of all genres, such as The Horrors, Odd Future, The Vaccines and Lana Del Rey. A truly multi-platform proposition, NME reaches a bigger global audience (1.1m a week) than ever before. Thanks to NME.COM (launched in 1996), NME Radio (launched in 2008), its apps, social media channels and digital editions, it is a trailblazer for a modern media brand.
About Merge Festival
MERGE is an annual arts, music and performance festival that draws on the rich heritage and contemporary culture of London's Bankside, by staging exhibitions, performances, and events in disused office blocks, historic buildings, open spaces, and local businesses. It takes art and music directly into the heart of the community bringing together residents, workers and visitors, both as participants and audiences, whilst allowing artists and musicians to showcase and develop their work without commercial restraint. MERGE is created by Better Bankside, making Bankside a place to work, live, visit, and do business, and leading Bankside-based arts events company, Illuminate Productions. This year's festival takes place from 19 September to 21 October. MERGE is supported by Bankside Mix, Land Securities, Tate Modern, Arts Council England, S+O Media, Borough Market, the Dennis Rosen Trust, and NEO Bankside. Find out more at http://www.mergefestival.co.uk/
About Better Bankside
BETTER BANKSIDE is a company owned, funded and led by employers in the Bankside area of London. It aims to improve Bankside as a place to work, live and visit, as well as enhancing the competitiveness of its businesses. Better Bankside was the third BID in the UK, the second in London and the first south of the river. A Business Improvement District (BID) is an independent, business-owned and led company, which seeks to improve a given location for commercial activity. www.betterbankside.co.uk
About NEO Bankside
NEO Bankside is an award winning £400m world-class residential scheme situated immediately adjacent to Tate Modern. The multi-award winning development comprises 217 premium residences arranged over four state of the art pavilions, set amongst a richly landscaped garden. The pavilions vary in height from 12 to 24 storeys and offer a considered selection of one, two and three bedroom apartments and a limited number of prestigious duplex penthouses. In addition to these premium residences, NEO Bankside offers a five-star luxury lifestyle brand, NEO Life, in one of London's most distinctive neighbourhoods. This includes concierge, a fully equipped business centre, 24 hour security, a wine cellar by Berry Brothers & Rudd and private gym. NEO Bankside also incorporates 11,000 sq ft of retail and leisure space including two restaurants. In addition, there will be a significant allocation of off-site affordable housing. Find out more at http://www.neobankside.com/