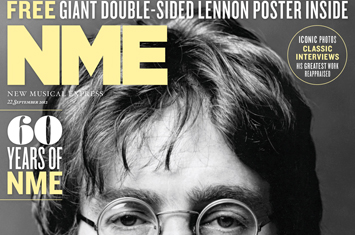 NME UNVEILS THE ULTIMATE ICON OF THE LAST SIX DECADES
September 18, 2012
Multiplatform music brand NME today unveils its Ultimate Icon issue, a special 60th birthday edition dedicated to John Lennon – the artist NME readers have voted as their greatest icon since the magazine was first published in 1952.
As a tribute to his astounding talent, contribution to music and the profound influence his work continues to have, this issue reflects on John Lennon's best work. It also includes a classic NME interview with Lennon from 1969, a look at Lennon's life as seen through the pages of NME, his greatest work reassessed, classic and iconic photographs, as well as personal testimonials from the likes of Paul Weller, Liam Gallagher, Alex Turner and Miles Kane on why John Lennon is the Ultimate Icon of NME's lifetime.
A large pull out poster featuring two legendary photos of John Lennon, exclusive to NME, offered with this issue makes this a true collectors' item.
Mike Williams, editor of NME, says: "No musician has ever meant as much to as many people as John Lennon, so it was no real surprise when the NME audience voted him the overwhelming winner of our poll to find the ultimate icon of NME's lifetime. To put it into context, to be crowned as the greatest hero of NME's 60 year existence, Lennon was up against the likes of David Bowie, Kurt Cobain, Liam Gallagher, Patti Smith, Alex Turner, Keith Richards and Jimi Hendrix – all total legends in their own rights - yet there was only ever going to be one winner. So what makes him so special? He's the everyman genius who operated in a different dimension to everyone else. A visionary, rebel, surrealist, artist, lover and wit who touched the lives of everyone who encountered him with the brilliance of his song writing and the fierceness of his beliefs. "It's better to burn out like an old soldier than to burn out," Lennon once famously said. There's little chance of either of those things happening to him, as every generation falls in love with his music and image as hard as the last."
Tracy Cheesman, publisher of NME, says: "As part of our 60th birthday celebrations we're extremely proud to announce this very special issue that will hit the shelves on the 19th September. Our audience of passionate and engaged music fans have voted in their tens of thousands and we're thrilled to be able to shine a spotlight on their ultimate icon. Featuring a pull out poster with two exclusive photos of John Lennon, this edition is a true collectors' issue and a must have purchase for music lovers everywhere."
Readers' votes refined a long list of 60 artists to a short list of four - Kurt Cobain, Alex Turner, John Lennon and Liam Gallagher - all vying for the NME Ultimate Icon status. Tens of thousands of votes were cast on www.NME.com, crowning John Lennon as the ultimate icon of NME's lifetime.
Since 1952, NME has reported on some of the most pivotal moments in music history and has featured in its pages artists who have shaped the music landscape. This issue celebrates the artists NME has been privileged to report on and appraise the albums which have made music history.
-Ends-
About NME
Launched in 1952 when the Accordion Times was merged with the Musical Express, the New Musical Express (NME) has been at the forefront of British music and culture ever since - championing the most exciting new artists of every decade and genre, from The Beatles to Blur, Sex Pistols to The Smiths, Public Enemy to Pete Doherty and beyond. Perhaps just as infamous as the musicians that NME has covered, are the legendary writers and photographers who have left their mark on its pages. Known for being provocative, passionate, witty and opinionated, household names such as Paul Morley, Danny Baker, Steven Wells and Steve Lamacq all cut their teeth at NME, while Nick Kent, Chrissie Hynde, Julie Burchill and Tony Parsons were among the hip young gunslingers who delivered missives from the frontlines of punk into the front rooms of thousands of teenagers every week in the late 70s. Pennie Smith, Anton Corbijn, Kevin Cummins and Dean Chalkley are just some of the celebrated photographers to have worked for NME. 60 years on and today NME is still at the forefront of music and culture, setting agendas, instigating debate and championing new and exciting artists of all genres, such as The Horrors, Odd Future, The Vaccines and Lana Del Rey. A truly multi-platform proposition, NME reaches a bigger global audience (1.1m a week) than ever before. Thanks to NME.COM (launched in 1996), NME Radio (launched in 2008), its apps, social media channels and digital editions, it is a trailblazer for a modern media brand.
For more information, please contact:
Holly McNally, Communications Assistant, IPC Media on 020 3148 5402 or email holly_mcnally@ipcmedia.com