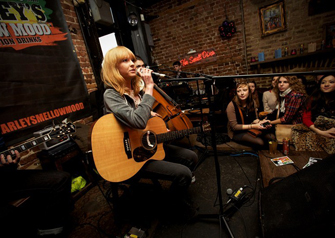 NME UNWINDS WITH MARLEY'S MELLOW MOOD
November 18, 2011
Multiplatform music brand
NME
has partnered with new premium relaxation drink
Marley's Mellow Mood
to host a series of chilled out live music events.
The partnership sees
NME
create a series of acoustic events to promote the stress and tension relieving properties of the new drink brand. The gigs feature up and coming artists and will take place on Sunday afternoons in venues that have a relaxed vibe. The gigs are free to attend and visitors will have the opportunity to sample the chilled drinks whilst they soak up the relaxing atmosphere.
Artists include Lucy Rose (at the Lock Tavern, Camden), The Heartbreaks (at Night & Day Café in Manchester) and Rachel Sermanni (at Brel in Glasgow).
The activity will be promoted by a six week cross-platform campaign, including advertorials, live ads, editorial in
NME
, and 'takeovers' of
NME.COM
. In addition, as part of the deal,
NME Radio
will introduce 'Chilled Sundays' - four hours (8am - 12pm) of laid-back tunes in association with the all-natural relaxation drink.
The partnership was developed by IPC Inspire men & music's head of creative media,
Rob Hunt
.
Rob says: "These gigs are a perfect way for our audience to relax after a hectic week's gigging. We built this idea based on the Marley's Mellow Mood strategy of enhancing chilled moments and our complete cross-media exposure really brings the campaign to life."
Marley's Mellow Mood brand manager
John Mulvey
adds: "The multi-platform NME proposition really works for us. These acoustic gigs really showcase the unique properties of Marley's Mellow Mood. NME found the right bands, great venues and amplified our campaign across their portfolio - print, digital, radio, even social media - integrated in the truest sense of the word."
-ends-

FOR MORE INFORMATION OR IMAGERY PLEASE CONTACT:

Anna Gawan, PR Manager, IPC Media on 020 3148 5405, 07816 316432 or

email anna_gawan@ipcmedia.com