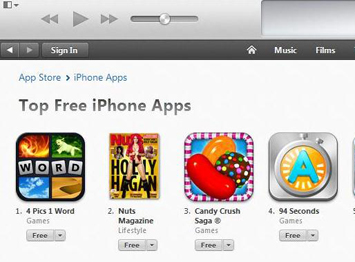 NUTS CELEBRATES APPLE NEWSSTAND SUCCESS
February 22, 2013
Nuts, the UK's biggest selling weekly men's magazine, has seen phenomenal growth of its digital editions on the iPhone and iPad, achieving the top rank in the iPhone and iPad Apple Newsstand charts in the UK.
Despite only launching on the Apple Newsstand in late November, Nuts is already incredibly popular and, in just one week, saw more than 100,000 downloads. Nuts is currently the top free iPhone app on the UK Apple Newsstand and also the highest-grossing iPhone Newsstand app. On the iPad, Nuts is the top free iPad Newsstand app and the sixth highest grossing. When this week's issue went on sale (Tuesday 19th February), Nuts rose up to be the second most popular free iPhone app in the entire UK Apple app store, enjoying more downloads for the time period covered by Apple's charts than Youtube, Instagram and Google Maps.
Jo Smalley, publishing director of Nuts, says: "These stellar Apple UK chart results demonstrate just how powerful and relevant the Nuts brand is. IPC is committed to putting Nuts into the hands of many more men on iPads, iPhones, Kindle Fires and other Android devices in 2013 as we move into the brighter future of multi-platform publishing. Our performance to date has already sparked exciting discussions with commercial partners about creating new bespoke digital products to market to this rapidly growing audience."
-ends-
About Nuts
Launched in 2004, Nuts has established itself as the biggest brand in men's media. Nuts magazine accounts for nearly one out of every two men's lifestyle mags purchased at newsstand. Online, www.nuts.co.uk is Britain's number one men's lifestyle website according to the Hitwise UK Online Performance Awards. Updated daily with exclusive images and video, the site delivers the very best in girls, sport, news, games, humour, gadgets and gear. Britain's best-selling men's magazine – Nuts – and its website, optimised smartphone site, social media presence and live events give IPC an unparalleled total reach into the most-elusive, hardest to please audience there is ­– young men.
FOR MORE INFORMATION PLEASE CONTACT: IPC Media: Anna Foster, group head of PR, IPC Media 020 3148 5406, 07896 103474 or email anna_foster@ipcmedia.com