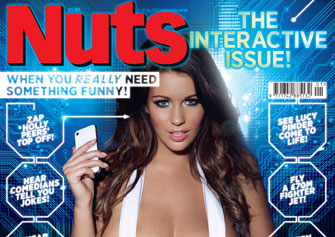 NUTS CREATES 'THE INTERACTIVE ISSUE'
January 4, 2012
Nuts, the UK's biggest selling weekly men's magazine, has partnered with mobile image recognition and augmented reality platform Blippar, to produce its most ambitious interactive print edition to date.
The Interactive Issue, on sale this week, includes over 20 pieces of additional augmented editorial content that can be brought to life by readers via their smartphones and the free Blippar application. This is one of the most comprehensive uses of image recognition technology within any single edition of a men's magazine to date, and the first use of Blippar by IPC Media.
The interactive content available in the issue includes a video introduction by Nuts' favourite Lucy Pinder, an exclusive interview with comedian Ross Noble, as well as other behind-the-scenes footage from the cover shoot. The issue also features an exhilarating ride in the cockpit of a Eurofighter, extended video and audio content from interviews and features, and sex advice from Nuts' regular columnist Danni Orsi.
Readers will also have the opportunity to use Blippar to purchase a host of products direct from the reviews and fashion pages of the magazine, turning readers into buyers through one touch of the screen.
In another magazine industry first using the technology, the issue will be promoted via interactive point of sale materials in key independent retailers. Potential readers that 'blipp' the promotional shelf-talkers with their phones will see an exclusive video clip from Rosie Jones - this year's winner of the Nuts' 100 sexiest poll - encouraging passers-by to purchase the issue.
Nick Soldinger, deputy editor, Nuts says: "We know our audience loves to interact with our content so this is going to offer them another great way to engage with Nuts. The interactive content is seamlessly integrated throughout the magazine which allows us to enhance the Nuts experience without inhibiting the printed product."
James Thrower, publisher, Nuts adds: "Nuts continues to lead the way in delivering exciting new content to young men in Britain. The Interactive Issue achieves the goal of bringing our readers even closer to the great features and franchises that appear in the magazine week-after-week. It also showcases how we can directly increase the level of engagement that our readers have with advertisers, taking them just one click away from purchase."
Stephen Shaw, opportunities director, Blippar: "Nuts and IPC's commitment to providing their readers with innovative mobile tools is well documented, as is Blippar's ability to enhance reader engagement and interaction through the various press and print advertising campaigns we have undertaken since our launch in August 2011. However this project with IPC is one of the most comprehensive, editorially integrated campaigns we've been invited to work on to date".
-ends-
About Nuts
Launched in 2004, Nuts has established itself as the biggest brand in men's media. Nuts magazine accounts for one out of every two men's lifestyle mags purchased at newsstand. Online, www.nuts.co.uk is Britain's number one men's lifestyle website according to the Hitwise UK Online Performance Awards. Updated daily with exclusive images and video, the site delivers the very best in girls, sport, news, games, humour, gadgets and gear. Britain's best-selling men's magazine - Nuts - and its website give IPC an unparalleled total reach into the most-elusive, hardest to please audience there is - young men.
About BlipparTM
BlipparTM is the first image-recognition app for smart devices targeted at brand-customer interaction. A free-to-download app, BlipparTM opens up in camera mode and becomes a single, magic 'lens' through which your favourite products, newspapers, magazines and advertising in the real world are instantaneously recognised and converted into fun, informative digital experiences.
BlipparTM app is available for free in the Apple App Store and Android Market (beta mode: selected handsets only).

Please see www.blippar.com and www.youtube.com/blippar1 for other demo videos of blippar in practice. Go to http://blipp.it to test a whole range of partner 'blipps'.
FOR MORE INFORMATION PLEASE CONTACT:
IPC Media: Anna Foster, group head of PR, IPC Media
020 3148 5406, 07896 103474 or email anna_foster@ipcmedia.com
Blippar: Harvard PR: Lianne Hunter / Dawn McMorrow
Lianne.hunter@harvard.co.uk / dawn.mcmorrow@harvard.co.uk
0207 861 2843 / 2455