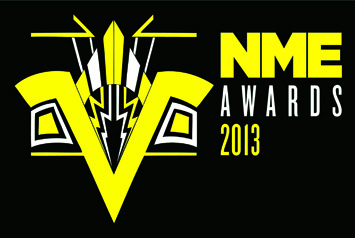 THE CRIBS TO BE HONOURED WITH THE TEENAGE CANCER TRUST OUTSTANDING CONTRIBUTION TO MUSIC AWARD
February 18, 2013
ALSO CONFIRMED TO PERFORM LIVE AT THE CEREMONY
@nmemagazine / #nmeawards
NME is pleased to announce that The Cribs will be the recipients of this year's Teenage Cancer Trust Outstanding Contribution To Music award at The NME Awards 2013. They will pick up the prestigious award on the night and are also confirmed to play live at the ceremony, which takes place at its new home, Troxy, in East London on Wednesday 27th February.
From their inception The Cribs - twins Gary and Ryan, together with younger brother Ross - have built a considerable reputation not only amongst their fans but likewise with critics and their musical peers, this year's NME Awards Godlike Genius recipient, Johnny Marr, became so enamoured with them that he actually became a member of the band from 2008 to 2011. Over the past ten years they have released five incredible albums, which each expanded their vision yet remained true to the unflinching DIY attitude that makes them so unique in British rock. The Cribs' unrelenting passion-fuelled drive has made them the most consistently inspiring British indie band of the past decade.
The Cribs said: "It's a tremendous honour, and something that you never really dream of when first starting out as three maladjusted weirdos from the middle of nowhere...it's almost like a purple heart in some ways - recognition for your time in the trenches and varying degrees of suffering...not sure there were too many acts of bravery, but if anything, we hope that people remember the fact that we always tried to negotiate this strange, and oftentimes sleazy industry with an ethic rooted in DIY - trying to forge your own path rather than riding the gravy train...so that makes this all the sweeter. Thanks a lot."
NME readers will decide which song The Cribs perform at the NME Awards, the brothers have drawn up a ten song shortlist and fans can head to www.nme.com to cast their vote.
Mike Williams, editor of NME, said: "The Cribs arrived on the scene in 2003 with a DIY, never-say-die attitude and they've not let up since, literally bleeding for the cause at some of the most chaotic and thrilling gigs of the past decade, and at the same time producing five amazing albums that encapsulate punk spirit and outsider indie like no-one else. Needless to say we're incredibly proud to salute their achievements by honouring them with this award. They truly are outstanding as well as inspiring, and we're looking forward to staying with them every step of the way for another ten years."
The Teenage Cancer Trust Outstanding Contribution To Music award is a very special accolade, along with the Godlike Genius Award (which this year goes to former Cribs guitarist Johnny Marr), and it is chosen by NME to recognise services to music. The award is in its forth year, previous recipients have been PJ Harvey, The Specials and last year's winners Pulp.
Music fans have cast thousands of votes across 22 categories for this year's awards. New bands, cult heroes and rock legends lead the nominations with The Rolling Stones up for four awards alongside M.I.A and two never before nominated acts – Tame Impala and Haim. Unsung Heroes of NME Awards past, The Maccabees, receive three nods along with NME Awards favourites Arctic Monkeys and David Bowie. To cast your vote visit www.nme.com/awardsvote.
The Cribs are playing an NME Award Show on Friday 22nd February, Shepherds Bush Empire. Tickets are available from www.NME.com/tickets.
For a full list of nominations please visit http://www.nme.com/awards
For full tour dates and more details keep checking www.nme.com
Tag your tweets with #nmeawards
--ends--
For further information please contact Emma Elwood or Karen McNamara at LD Communications on 020 7439 7222 or email:
emma.elwood@ldcommunications.co.uk /