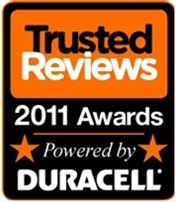 TRUSTEDREVIEWS ANNOUNCES THE BEST TECHNOLOGY PRODUCTS OF THE YEAR
December 5, 2011
REVIEWS WEBSITE UNVEILS THE YEAR'S BEST TECHNOLOGY IN THE TRUSTEDREVIEWS AWARDS 2011 POWERED BY DURACELL .
TrustedReviews has named the Asus Eee Pad Transformer Product Of The Year in its 2011 Awards.

The hybrid Android tablet, which transforms into a netbook, thanks to a clever keyboard accessory dock, beat tough competition to win both the Best Tablet 2011 and Best Laptop 2011 categories.

Initial voting was carried out across 14 categories by the 2.5million users of www.trustedreviews.com - the UK's premier online source of consumer technology news and reviews.

After the public vote, the top three products in each category were tried and tested by an expert panel across two days of judging. The panel included TrustedReviews' own expert reviewers as well as technology editors from The Daily Telegraph, Huffington Post UK, MSN UK, Recombu and Absolute Gadget.*

TrustedReviews editor Cliff Jones says: "We felt that the Transformer deserved to win in both categories due to its clever design, build quality, versatility and excellent value. It impressed our judges who had no hesitation in naming it Product Of The Year 2011."

Other winners included the Samsung Galaxy S II in the Mobile Phone category and the Nikon D7000, which took Best Digital Camera. Samsung also won in the best 2D TV category with its UE40D5520, and the Panasonic TX-P50G30 took title for best 3D TV.

There were a number surprises among the Awards' 14 categories, the full results of which can be found at - http://www.trustedreviews.com/awards-2011.

The awards reflected a wide range of products with some interesting choices. Cliff adds: "While value remains important, high quality and a range of features remained important criteria when picking an overall winner. The results reflect an interesting mix of high-end premium products and affordable consumer technology."

- ends -

FOR MORE INFORMATION ABOUT TRUSTEDREVIEWS PLEASE CONTACT:

Anna Gawan, PR Manager, IPC Media

Tel: 020 3148 5405 or email anna_gawan@ipcmedia.com

About TrustedReviews:

www.TrustedReviews.com is a IPC Media publication which provides users with a comprehensive source of expert and user reviews and ratings, side-by-side comparison tools and the best deals available on the web, all in one place.

About the TrustedReviews Awards:

The Trusted Reviews Awards 2011 powered by Duracell reward the most ground-breaking, life enhancing and fun-inducing gadgets of 2011 and recognise their high quality, accomplished design, great value and exceptional features. The www.trustedreviews.com audience voted for their favourite gadgets of 2011 and the finalists went before an expert panel of judges to decide which products deserved to be crowned 2011's winners. The annual Awards cover everything from tablets through to 3D TV and beyond.

* External judges:

Verity Burns - MSN Tech & Gadgets Editor

Melanie Hick - Tech Editor Huffington Post

Matt Warman - Consumer Technology Editor

Rene Millman - UK Editor of Absolute Gadget website

Hannah Bouckley - Editor, Recombu.

About Duracell:

DuracellTM has recently announced an evolution in its personal power offer, helping people go beyond the usual power limits of their daily devices. The new portfolio line-up features a range of Portable Chargers, Rechargeable Chargers and cells and traditional disposable round cell batteries designed to meet all your power needs both at home and on the go.