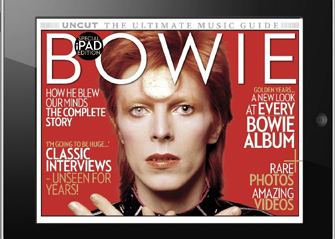 UNCUT LAUNCHES SPECIAL BOWIE iPAD EDITION
October 26, 2011
Uncut
, home of great, timeless rock music, today announces the launch of a special issue
David Bowie: The Ultimate Music Guide
for the iPad.
Now available in the app store, the iPad edition features over six hundred interactive pages that trace the Starman's extraordinary five decades of fame, including a wealth of videos, audio clips, original artwork and hundreds of rare photographs.
The issue also features the most revealing Bowie interviews, unseen for decades, from the archives of
NME
and Melody Maker, and newly commissioned in-depth reviews of every Bowie album.
David Bowie: The Ultimate Music Guide
is available to download from the app store priced £2.99. A free sampler of the special edition is also available in the store as a Lite app.
Uncut
editor
Allan Jones
says: "This is an exciting new development for Uncut and our popular Ultimate Music Guide series. The additional content, including extensive photo-galleries, audio and video clips exclusive to the iPad edition of David Bowie: The Ultimate Music Guide, make this a unique experience indispensable to Bowie fans."
David Bowie: The Ultimate Music Guide
is also available to buy as a special limited edition print issue at www.nme.com/store.
-ends-

About Uncut

Uncut is the home of great, timeless rock music, from Bob Dylan to Arcade Fire. It aspires to be the monthly magazine of choice for discerning, knowledgeable music fans that typically grew up with the classic rock of the Sixties and Seventies who continue to be excited by new music that connects them to the records they have always loved.

This is a discerning, well-informed readership best-served by an editorial voice and content that is entertaining, authoritative and informative, with a specific emphasis on delivering the most comprehensive and definitive review section in the monthly music sector.