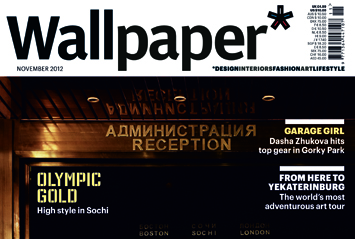 WALLPAPER* COMPLETES BRIC NATION JOURNEY WITH 'REIGNING IN RUSSIA'
October 11, 2012
Wallpaper*, the international design, fashion and lifestyle title, today reveals its Reigning in Russia issue – the final edition in its four-year project exploring the culture and creativity in the BRIC nations.
Setting up pop-up offices in St Petersburg and Moscow, and transferring the majority of
its editorial team, Wallpaper* continues its tradition of absorbing the country's ways of living and working.
From art, architecture, design, and food to fashion, interiors media and travel, Reigning in Russia explores the creative energy coursing through the country. The edition also includes a BRIC nation review, revisiting the architecture, design and hotel scenes of Brazil, India and China.
Wallpaper* began its BRIC nation journey in 2009, setting up shop in Shanghai and Beijing to produce the award-winning Made in China issue. Next up was São Paulo and Rio de Janeiro for Born in Brazil, one of Wallpaper's biggest-selling issues. Last year it was Mumbai and Delhi for Reborn in India.
Wallpaper* editor-in-chief Tony Chambers says: "Four epic journeys, four epic issues, we've shown what makes these countries tick. We now have a BRIC-shaped hole to fill, but you can bet whatever comes next will be equally exciting."
Publishing director Gord Ray adds: "Our four-year plan and adventure is now complete. From picking up gongs to storming the newsstands and creating stunning pop up offices in between, we've covered the BRIC nations in a way only Wallpaper* can."
-ends-
Notes to editors:
About Wallpaper* Truly international, consistently intelligent and hugely influential, Wallpaper* is the world's most important design and style magazine. It attracts the most sophisticated global audience by constantly pushing into new creative territories and ensuring its coverage of everything from architecture to motoring, fashion to travel, and interiors to jewellery remains unrivalled. Wallpaper* has readers in 93 countries and has enjoyed unparalleled success in reaching the design elite right across the globe. To Wallpaper*, the world is one seamless marketplace, where consumers flit from one destination to the next, easily cross physical borders and cultural divides, and flirt with a variety of different brands, both established and undiscovered. With 12 themed issues a year, a limited-edition cover by a different artist or designer each month, over 745,000 Twitter followers and a monthly iPad edition, Wallpaper* has evolved from style bible to internationally recognised brand.
For more information contact:
Victoria Higham, IPC Media PR Manager +44 (0)20 3148 5401/M: 07855 468567 Victoria_higham@ipcmedia.com