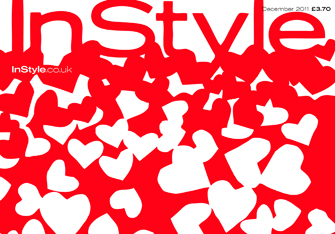 WORLD'S FASHION ELITE JOIN INSTYLE TO CREATE STYLISH SHORT FILMS
November 14, 2011
• Premiere party in association with the new Range Rover Evoque
Fashion and beauty bible
InStyle
has gathered some of the world's top fashion designers to each create a short film exploring style. Building on the collaboration, each designer has produced a limited-edition December cover for
InStyle
's subscribers.
The seven fashion designers commissioned for
Film InStyle
are: Roberto
Cavalli, Christian Louboutin, Mulberry's Emma Hill, Henry Holland, Paul Smith, Zac Posen
and
Diane von Furstenberg
. Working with an eclectic roll call of directors, the brands have created shorts that convey their interpretation of style, ranging from the exuberant to the dreamy and scripted drama to dance.
Before appearing on
www.instyle.co.uk
, the seven films will be screened at a London premiere sponsored by the new
Range Rover Evoque
. InStyle is taking over The Sanctum Soho Hotel, which for one night will become Hotel InStyle, while a fleet of Range Rovers will be on hand for VIP guests.
InStyle
editor Eilidh MacAskill says: "Fashion and film are two of InStyle's greatest loves so we were absolutely thrilled that such incredible designers signed up for Film InStyle, one of our most ambitious projects. Fashion films are fast becoming the new music video and we're delighted to be at the forefront and championing creativity."
Publisher Sarah Hammond adds: "Film InStyle demonstrates the strength and dynamism of the InStyle brand as it celebrates its tenth birthday. The relationship the brand has with the world's fashion elite can be seen in the pages of the magazine and on instyle.co.uk. This project shows the exceptional concepts that we can deliver."
The seven limited-edition December covers include a stylish augmented reality surprise from Henry Holland and an iconic confetti heart print from Diane von Furstenberg. Non-subscribers will also able to purchase the limited-edition covers by telephone, while an eighth bespoke Range Rover Evoque cover will front copies available at the premiere.
InStyle
is also giving readers the chance to showcase their film-making talent by creating a short film. The best will be judged by a panel including Burberry's Christopher Bailey and Skins and Cast-off director Amanda Boyle. The winner will enjoy a short stint at Burberry HQ, and the chance to shoot a film for
InStyle
.
The Film InStyle premiere in association with the new Range Rover Evoque takes place on 22 November. The seven fashion films will feature on www.instyle.co.uk from 23 November.
The Range Rover Evoque partnership was brokered by Mindshare. Academy Films secured many of the directors and actors involved.
- ends -

About InStyle

InStyle is the insider's fashion and beauty bible, with an eye on upcoming talent in film, fashion and beauty. Along with a-listers, InStyle showcases the very best of international style talent, offering expert advice and an inspirational edit. The British edition of this international title was launched in 2001 and is now established as one of the leading fashion magazines in the UK. The instyle.co.uk website launched successfully in May 2007.

December issues with limited edition covers can be purchased by phoning 01234 227144.

For further information, contact:

Victoria Higham, PR manager, IPC Media

Tel: 020 3148 5401 or email victoria_higham@ipcmedia.com

For high-resolution images go to www.ipcmedia.com/imagebank