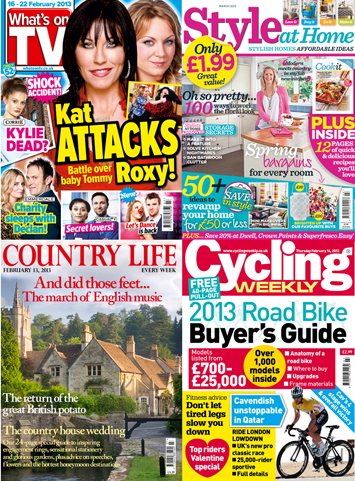 IPC MEDIA ABC FIGURES: JULY TO DECEMBER 2012
February 14, 2013
IPC Media today unveils highlights from the latest round of ABC figures for its brands reporting in the period July to December 2012.
IPC Media CEO Sylvia Auton says: "We are committed to ensuring that our iconic brands are available on all platforms and have now firmly established our tablet footprint, having launched 62 brands on Apple Newsstand, and the majority on Barnes & Noble Nook and Kindle Fire. We welcome that ABC, for the first time, is including combined print and digital figures in this set of ABC results. This period, we have 22 brands publishing a digital certificate and next period there will be many more."
IPC's ABC results include:
IPC Connect's television titles again performed well this period with their annual share of the newsstand now at 46.7%, reflecting a year-on-year market share growth of 0.5%. What's on TV posted a total print ABC of 1,222,242, a period-on-period increase of 0.5% and again narrowed the gap between it and its nearest competitor. At the premium end of the market, TVTimes enjoyed period-on-period growth of 3.8% to lift its total print ABC to 275,526 and TVeasy posted a total print ABC of 148,759, up 0.1% on the period. These results demonstrate that consumers continue to trust the editorial quality of IPC's brands to guide them to unmissable TV moments.
In the women's weekly market, the lifestyle titles Woman and Woman's Own continued to perform well in demanding market conditions and both outperformed the sector year-on-year. Woman posted a total print ABC of 261,170 and maintained its position at the top of the women's weekly lifestyle sector and Woman's Own outperformed the sector on both the year and the period with a total print ABC of 222,571. In the celebrity sector, Now posted a total print ABC of 240,061, the strongest year-on-year performance in the sector.
This period, IPC Inspire's cycling portfolio was buoyed by a successful year for road cycling and all titles saw year-on-year total print circulation increases. Cycling Weekly enjoyed a 5.2% increase to take its total print ABC to 28,834; Cycling Active, which posts a total print ABC of 25,004, saw an increase of 13.3%; and Cycle Sport posts a total print ABC of 21,495, a leap of 29.5% year-on-year.
Elsewhere in IPC Inspire's sport and leisure portfolio, World Soccer lifted its circulation by 1.2% year-on-year to post a total print ABC of 32,843 and Golf Monthly reclaimed its position at the top of the golf market, posting a period-on-period print increase of 0.3% and a combined print and digital ABC of 58,024. The Field, IPC's oldest magazine, increased its total print circulation year-on-year by 3.2% to 29,428. Celebrating its third consecutive annual ABC increase, Country Life reports an increase of 0.5% year-on-year to 38,246.
In the fashion sector, both Marie Claire and InStyle outperformed the market period-on-period. With a total print circulation increase of 1.5% period-on-period to 165,903, InStyle is one of the best performers in the fashion market. Marie Claire increased its total print circulation on the period by 0.1% to 255,333 and continues to benefit from investment in the magazine, showcasing its core editorial strengths and glossy credentials.
IPC Southbank continues to be the clear market leader in the home interest market and has increased its share of the total market year-on-year from 44.9% to 45.6%. Its eight-strong portfolio, including the online homes portal housetohome.co.uk, caters to every interiors enthusiast, from country to urban, modern to traditional and budget to upmarket. The most recent entrant to the market, Style at Home reports considerable growth, up 9.9% on the period and 22.5% on the year to deliver a total print ABC of 87,943. Country Homes & Interiors also posted 0.4% growth on the year taking its ABC to 97,631.
-ends-
Note to editors:
For additional comments please contact the IPC Media press office on one of the numbers below.
For high-res covers and images of key IPC Media personnel go to http://www.ipcmedia.com/news/imagebank
About IPC Media
IPC Media is one of the leading consumer magazine publishers in the UK. Its three publishing divisions are: IPC Connect, IPC Southbank and IPC Inspire. IPC is wholly owned by Time Warner, one of the world's largest media groups.
For further information, please contact:
Anna Foster, group head of PR, IPC Media, Tel: 020 3148 5406, email: anna_foster@ipcmedia.com
Victoria Higham, PR manager, IPC Media, Tel: 020 3148 540, email Victoria_higham@ipcmedia.com
Anna Gawan, PR manager, IPC Media, Tel: 020 3148 5405, email: anna_gawan@ipcmedia.com